Simple & Easy Photo & Signature Editor
Edit Your Kerala PSC Photograph & Signature in 1 Minute.
Thulasi PSC Photo Editor, Now you can Edit Your Photograph & Signature as per the specifications given by Kerala PSC without installing any applications. Photograph and Signature edited using Thulasi PSC Photo Editor can be downloaded directly into your Mobile Phone or Personal Computer and are ready to upload into the Kerala PSC One Time Registration form OR Profile Photo Upload. Photograph with Your Name and Photo Taken Date will be imprinted and Cropped by just One Click. So, Start Editing and Forget about the hasseles.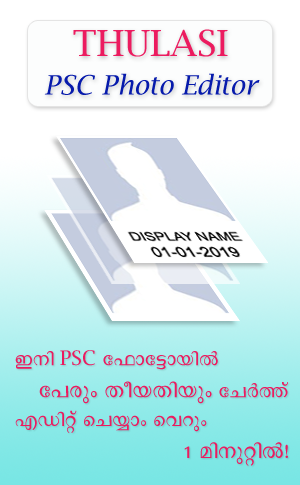 Thulasi PSC Photo Editor Tips:
1. You can either take a new photograph from your mobile phone or scan a physical photograph using a scanner.
2. If you are taking new photograph from your mobile phone make sure that: (a) Mobile Phone have good camera quality. (b) White background (c) Uniform lighting and no dark shades or shadows. (d) Photograph should look like formal studio photograph.
3. Make sure the uploading photograph is straight and not tilted.
4. You can upload photograph with any image formats (jpeg/jpg/png/bmp/gif) with file size below 5MB.
5. Do Not Upload Selfies, Group Photos and Casual Photos.
6. Your name on the photograph should be same as your Kerala PSC Profile name.
7. For Signature photo upload, background should be clean and white in color.
8. For Signature photo upload, If you are using your mobile phone for taking signature photograph we prefer to use Cam Scanner Android Application to scan your Signature and then upload.